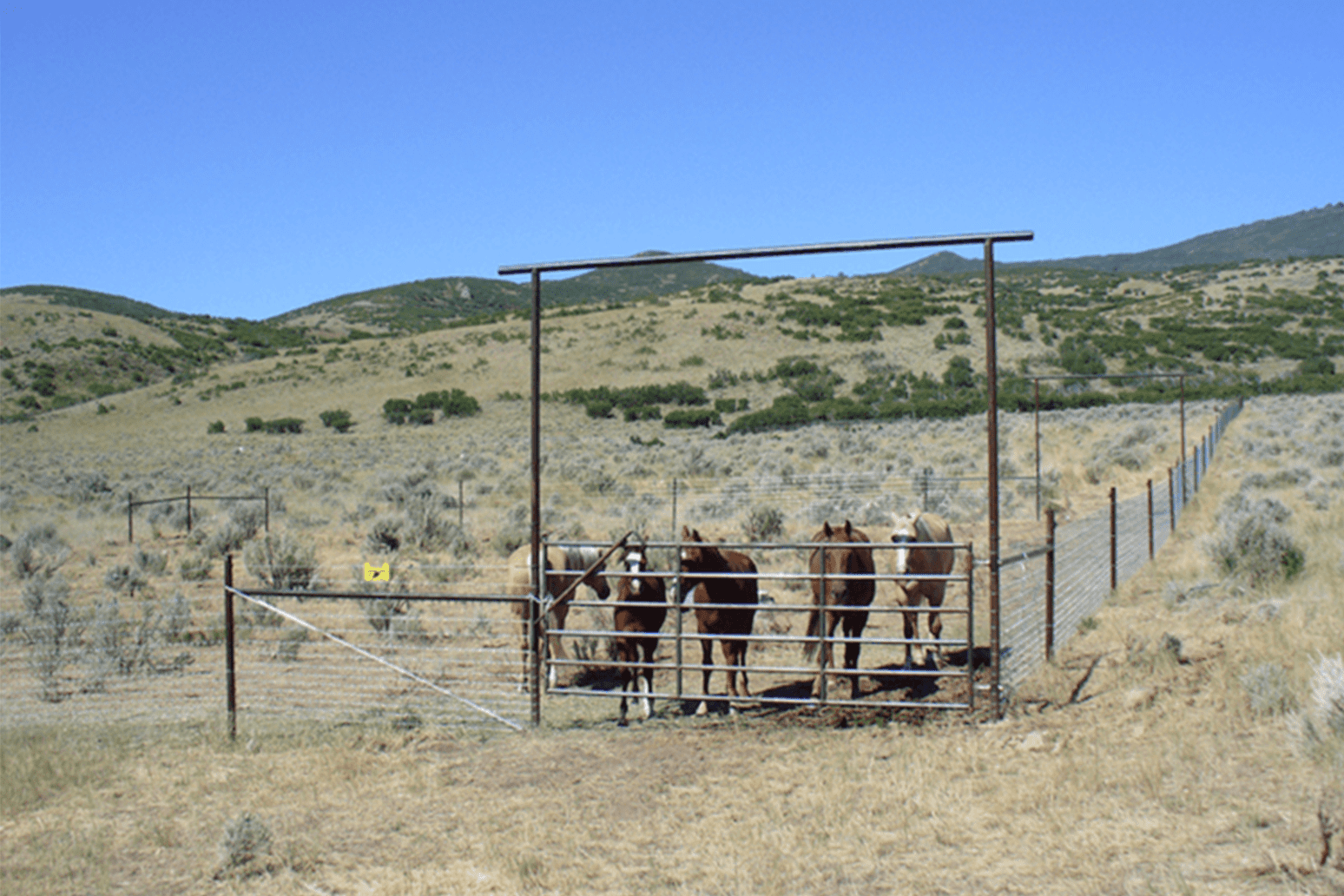 Owning and managing a farm comes with a slew of responsibilities that extend well beyond planting and harvesting. A high-quality gate is a critical aspect that may not initially come to mind but is vital for efficient farm management. More than just a point of entry or exit, a well-constructed gate can serve multiple functions, from security to aesthetics. Among the myriad options available, metal farm gates rise above the rest, offering unparalleled durability and versatility. These gates aren't just about keeping things in or out; they're a significant investment in the long-term sustainability and functionality of your farm.
Versatile Gate Options for Your Farm
Bow Entrances
Bow gates lend an air of elegance to the otherwise utilitarian aspect of farming. These gates, designed with an arch shape at the top, often serve a dual purpose. Not only do they provide a visually appealing structure, but they are also practical, allowing horseback riders to pass through without needing to dismount. This design saves time and offers an extra layer of convenience.
For Your Livestock
Livestock gates are no small consideration when you're housing animals that weigh several hundred pounds. These gates are engineered for resilience, capable of withstanding the rigorous demands of farm life. It's worth noting that industrial piping companies often manufacture the robust pipes used in these gates, offering an extra layer of durability and quality.
Specially Designed for Cattle
While livestock gates can serve a multi-species purpose, cattle gates are designed with the specific needs of cows in mind. These gates often incorporate additional bars or mesh components to keep the cows from attempting to go through the spaces. They're constructed with durability in mind, ensuring that even the most stubborn cow can't make a break for it.
Open Fields, Secure Gates
Field gates are designed for the broader expanses of a farm. Given their width, they can accommodate the passage of large equipment, vehicles and even small aircraft in some instances. These are the workhorses of the farm gate world, offering unparalleled utility.
The Charm of Kissing Gates
Kissing gates are a quirky yet effective design featuring a V or U-shaped enclosure. These gates allow people to pass while effectively keeping livestock in their designated areas. Their design offers a touch of whimsy while ensuring your animals are secure and safe.
Tubular Construction
Among the more contemporary designs in farm gate options is the tube gate. These gates, comprised of hollow metal tubes arranged in a grid-like pattern, offer the advantage of being lightweight without compromising on strength.
Choose Your Metal Wisely
The Lightweight Option: Aluminum
Aluminum gates offer the benefits of being corrosion-resistant and lightweight, making installation and ongoing maintenance a breeze. However, they may not provide the kind of heavy-duty durability that other metals offer.
Opt for Steel: A Strong Alternative
Steel is a heavyweight in the metal world. Its robustness and long-lasting qualities are why it's a top pick for farms that require heavy-duty gating solutions. Many reliable industrial piping companies specialize in steel, which is a testament to its resilience and broad range of applications.
Ideal Locations for Gate Installation
Proper gate placement is paramount for both security and logistical reasons. Where you position your gate can influence how efficiently you move livestock, equipment and supplies in and out of your property. Considering Factors include:
The width of the entrance
Proximity to the road
Natural barriers like trees and rocks
Must-Have Tools for Gate Installation
Metal farm gate installation is not a trivial task. You'll need an array of tools and supplies, including a post-hole digger for setting your gate posts, concrete mix for stability, measuring tape for precise alignment and high-strength bolts and screws to secure everything in place. Having the right tools can make the installation process smooth and hassle-free.
Essential Gate Add-ons
Locks and Latches
Securing your farm gate is essential. High-quality latches and locks range from traditional padlocks, and lever latches to more modern electronic locking systems that can be operated with a simple swipe of a card or entry of a code.
Automated Metal Farm Gates
Automation offers an extra layer of convenience and sophistication. Gate openers come in various styles and can be operated via remote control, keypads or even smartphone apps. This feature adds a level of ease to your daily operations.
Wheels for Easier Movement
Adding wheels to your farm gates can drastically improve their usability. Particularly for larger and heavier gates, wheels offer a more manageable way to open and close the gates, especially during harsh weather conditions.
Secure Your Farm's Future Today with International Pipe
If you're keen on enhancing the security, functionality and aesthetic appeal of your farm, investing in metal farm gates is a step in the right direction. This move ensures the safety of your property and livestock and elevates your farm's overall look. When it comes to sourcing these gates with the perfect blend of quality and expertise, turning to International Pipe will provide you with a lasting and reliable solution. Act now to secure your farm's future.