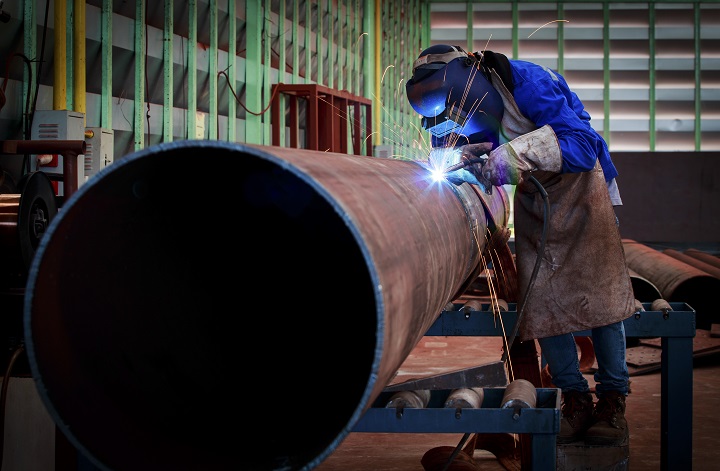 Pipe fabrication is the procedure of manufacturing straight lengths of pipe elements, including forged elbows, tees, flanges, and reducer fittings. This method ensures the pipes are safe to transport gases and liquids.
This process requires high precision, involving hundreds of components and installation processes. The pipe fabrication process needs scheduling, planning, and execution based on the location, design, timing, and budget requirement of steel pipe fabricators.
Where Does This Process Take Place?
In a few cases, projects require a field construction solution. In-shop and on-site fabrication both have their pros and cons. It depends upon the scope of the project and the size. This final decision depends upon various factors such as accessibility and safety concerns, the dimensions, and collaboration with other traders.
What Are the Pipe Fabrication Types?
Field pipe fabrication.
Shop pipe fabrication.
The best type for your project is based upon a few factors. In most cases, both field and shop fabrication are employed. Before selecting the fabricating type, it is wise topay attention to post-fabrication surface treatment, time constrictions, environmental conditions, and some other points.
In the shop pipe fabrication process, the experts combine fittings, pipes, and other components into spool assemblies at the workshop, referred to as the fabrication shop. After that, steel pipe fabricators identify and label the spools and bring them to the building site for installation. The other method, aka field pipe fabrication is where the experts fabricate the assembled components on-site.
Which Equipment and Tools Do Experts Use?
Pipe Threader
Center Punch
Pipe Purging Equipment
Forklift
Pipe Jacks
Adjustable Pipe Rollers
Hydraulic Crane/Tower Crane
Pipe Bending Machine
Chain Clamps
Pipe Fit up Tools
Adjustable Pipe Rollers
Welding Machine
Torque Wrench
Flange Alignment Tools and Pins
How Do the Experts Complete the Process?
First, the pros mark and verify the pipes according to the Pipe Fabrication Specification. After that, they tag the materials with paints or stamps to ensure that the pipe heat numbers are displayed.
Next, they cut the pipe using various cutting methods. Gas torch, grinding, saws, and plasma cutting are some popular ones. Different cutting techniques are used based on the type of steel. Then, the steel pipe fabricators complete the fit-ups and beveling by following an approved specification and WPS.
Contact Us
Do you have more questions about the pipe fabrication procedure? You can contact us at International Pipe & Supply to learn more about it. Our experts can create and provide engineered pipes for your next pipe fabrication project at a reasonable price.