Benefits of Installing Sliding Fence Gates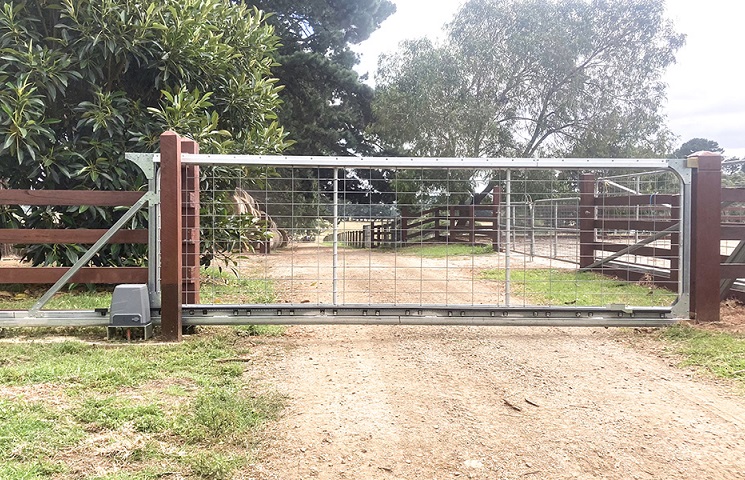 A significant rise in the popularity of sliding metal farm gates can be seen in recent days. Apart from their elegant look, they add an extra layer of security.
Understanding Sliding Gates
It is a type of flexible gate that comes with wheels. These are less likely to get punctured and allow smooth movement. This robust gate is made using galvanized steel and is used on various surfaces.
They are quite durable and simple to operate. Let us have a look at the amazing benefits of these gates:
Saves a Lot of Space
As they do not contain any turning radius, you can save more space using these gates. They follow the sideward movement and allow more space in your driveway, garden, and front yard.
Properties near the road can also use these to eliminate the hassle of swinging outwards.
Better Efficiency
Metal farm gates that are siding tend to save a lot of energy and time. Whenever you need faster access coming in and going out of your driveway, there is nothing more reliable than the sliding gates.
You should also note that they are easy to control and use. This makes them ideal for businessmen/businesswomen who demand more convenience and ease.
Zero Fitting Issue
One of the biggest benefits of these gates is that they always fit. This means that you will not face issues with their installation and operation.
Levels Up Your Security
You should never compromise on the security of your business and house. Having said that, the safety of your employees and families should also be considered.
Sliding gates are known to upgrade the protection of your property and dear ones. With their robust structure, intruders are least likely to break into and enter.
Operates Easily
As they do not have swinging movements, they would not hit you or your vehicle. These gates do not depend upon the strength of the operator, which makes them very convenient.
Automated gates coming with remote control facilities are great during harsh weather conditions.
Cost-Effective Maintenance
Sliding gates won't easily get destroyed by friction due to their wheels. Costly repairs and damage can be avoided by keeping them well-maintained and clean if created with metal.
Swinging Metal Gates
The major advantage of swinging gates is that they are easy to maintain (especially in the case of manual gates). As these do not involve the use of motors, they are quite easy to use. Having said that, these can also be automated.
Also, they are easy to install and are quite reasonable.
Upgrade Your Fencing
Making a choice between a swing gate and a sliding gate can be tricky. This is where International Pipe stands out. Our highly skilled professionals help in choosing the appropriate fencing material as per your property's requirement.
We assure the strength and durability of these metal farm gates with maximum security.
Contact to learn more about our services.